TOTAL RECORDABLE CASE FREQUENCY
[A]
million working hours
injuries
---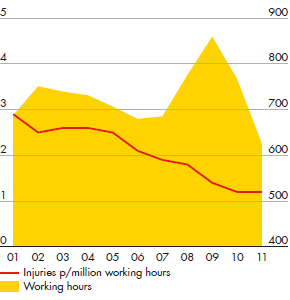 ---
[A] Employees and contractors per million working
hours; Shell-operated facilities
Sustaining our licence to operate depends on maintaining the safety and reliability of our operations. We manage the hazards of our businesses through rigorous controls and compliance systems combined with a safety-focused culture. Our global standards and operating procedures define the controls and physical barriers we require to prevent incidents. For example, our wells are designed and executed under the protection of two barriers to minimise the risk of an uncontrolled release of hydrocarbons. We regularly inspect, test and maintain these barriers to ensure they are meeting our standards.
In order to reinforce the safety of our operations around the world after the BP Deepwater Horizon incident in 2010, we undertook a review of operating practices, testing frequencies, training protocols and safety procedures. We have made some adjustments to our safety and technical procedures including: the introduction of an advanced well-control class in our mandatory well engineering training program; the completion of a new real-time well control tool; and the introduction of revised procedures for casing and tubing design as well as for cement casing. We also reviewed and updated our requirements for asset integrity and process safety.
We continue to build the safety culture among our employees and contractors. We hold an annual global safety day to give workers time to reflect on how to prevent accidents. We expect everyone working for us to intervene and stop work that may appear to be unsafe. Everyone working for us has to comply with our 12 mandatory Life-Saving Rules. If employees break these rules, they will face disciplinary action up to and including termination of employment. If contractors break them, they can be removed from the worksite.