Meeting the growing demand for energy worldwide in ways that minimise environmental and social impact is a major challenge for the global energy industry. We are committed to improving energy efficiency in our own operations, supporting customers in managing their energy demands, and continuing to research and develop technologies that increase efficiency and reduce emissions in liquids and natural gas production.
We leverage our diverse and global business portfolio and customer focused businesses built around the strength of the Shell brand.
STRATEGY
CONVERTING RESOURCES TO PRODUCTION
billion
boe
---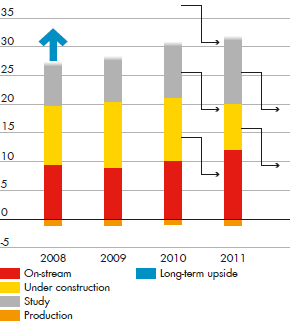 ---
Our strategy seeks to reinforce our position as a leader in the oil and gas industry in order to provide a competitive shareholder return, while helping to meet global energy demand in a responsible way. Safety and corporate environmental and social responsibility are at the heart of our activities.
Intense competition exists for access to upstream resources and to new downstream markets. But we believe our technology, project-delivery capability and operational excellence will remain key differentiators for our businesses. We expect around 80% of our capital investment in 2012 to be in our Upstream businesses.
UPSTREAM
In Upstream we focus on exploration for new liquids and natural gas reserves and on developing major new projects where our technology and know-how add value to the resource holders. The implementation of our strategy will see us actively managing our portfolio around three themes in Upstream:
building our resource base through global exploration, focused acquisitions and exits from non-core portfolio positions;

accelerating the extraction of value from our resources, with profitable production growth, top-quartile project delivery and operational excellence; and

differentiating ourselves from our competition through integrated gas leadership, technology and partnerships.
DOWNSTREAM
In our Downstream businesses, our emphasis remains on sustained cash generation from our existing assets and selective investments in growth markets. The implementation of our strategy will see us actively manage our assets around three themes in Downstream:
operational excellence and cost efficiency, to maximise the uptime and operating performance of our asset base, and to reduce costs and complexity;

refocusing our refining portfolio on the most efficient facilities – those that best integrate with crude supplies, marketing outlets and local petrochemical plants; and

selective growth in countries such as China, India and Brazil, which have high growth potential, while maintaining or increasing our margins in our core countries. This includes researching, developing and marketing biofuels.
PROJECTS & TECHNOLOGY
Our commitment to technology and innovation continues to be at the core of our strategy. As energy projects become more complex and more technically demanding, we believe our engineering expertise will be a deciding factor in the growth of our businesses. Our key strengths include the development and application of technology, the financial and project-management skills that allow us to deliver large field development projects, and the management of integrated value chains.
OUTLOOK
We have defined three distinct layers for Shell's strategy development: performance focus and continuous improvement; growth delivery; and maturing next-generation project options for the longer term.
Performance focus and improvement
Growth delivery
Maturing next-generation project options
FINANCIAL FRAMEWORK

---
[A] CFFO outlook at $80-100/b Brent and assumes improved US gas and downstream
environment from 2011; CFFO excludes working capital movements.