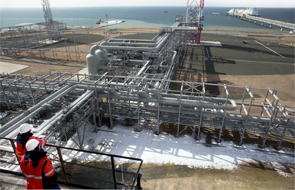 LNG plant with oil export terminal,
Sakhalin, Russia.
We have a 27.5% interest in Sakhalin-2, which is one of the world's largest integrated oil and gas projects. Located in a subarctic environment, the project reached planned plateau production of some 360 thousand boe/d in 2010, supplying around 9.6 mtpa of LNG from two trains. After optimisation of the LNG plant, production from the two trains reached 10 mtpa in 2011. Additionally, we have a 50% interest in the Salym fields in western Siberia, where production averaged some 165 thousand boe/d during 2011.
We also hold interests in two exploration and production licences in Russia, one for the East Talotinskiy area in the Nenets Autonomous District and the other for the Barun-Yustinsky block in Kalmykia.