DENMARK
We hold a non-operating 46% interest in a producing concession covering the majority of our activities in Denmark. The concession was granted in 1962 and will expire in 2042. Our interest will reduce to 36.8% in July 2012, when the government enters the partnership with a 20% interest and the government profit share of 20% is abolished.
IRELAND
We are the operator of the Corrib Gas project (Shell interest 45%), which is currently under development. In 2011, we received all three consents for the planning and construction of an onshore pipeline. The legal challenges to the onshore consents have been withdrawn. The construction of the onshore pipeline will commence in 2012 and will take at least two years to complete. At peak production, Corrib is expected to supply a significant portion of the country's natural gas demand.
THE NETHERLANDS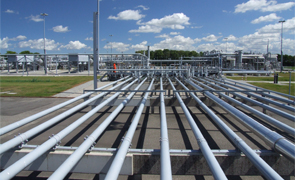 Schoonebeek gas field,
the Netherlands.
Shell has interests in various assets through its participation in Nederlandse Aardolie Maatschappij B.V. (NAM), a 50:50 joint venture between Shell and ExxonMobil formed in 1947. NAM is the largest hydrocarbon producer in the Netherlands. An important part of NAM's gas production comes from its onshore Groningen gas field, in which the Dutch government has a 40% financial interest, with NAM holding the remaining share. Shell also has a 30% interest in the Schoonebeek oil field, where production restarted in 2011 after a 15-year hiatus. The field's redevelopment was made possible by enhanced oil recovery technology.
NORWAY
We are a partner in over 20 production licences on the Norwegian continental shelf and are the operator in eight of these, including the Draugen oil field (Shell interest 26.2%) and the Ormen Lange gas field (Shell interest 17.1%). We hold interests in the Troll field (Shell interest 8.1%), the Gjøa field (Shell interest 12%), the Kvitebjørn field (Shell interest 6.5%), and have further interests in the Valemon field development and various other potential development assets. In 2011, we divested our interests in the Gassled natural-gas transport infrastructure joint venture for a consideration of $0.7 billion.
UNITED KINGDOM
We operate a significant number of our interests in the UK Continental Shelf on behalf of a 50:50 joint venture with ExxonMobil. Most of our UK oil and gas production comes from the North Sea. The northern sector and central sectors of the North Sea contain a mixture of oil and gas fields, and the southern sector contains mainly gas fields. We hold various non-operating interests in the Atlantic Margin area, principally in the West of Shetlands area. In 2011, we took the final investment decision for the Clair development and the Schiehallion redevelopment projects.
Map of North-west Europe