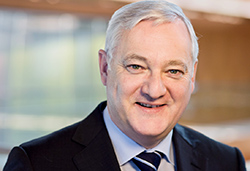 "SHELL HAS THE SCALE AND PORTFOLIO CHOICES TO MANAGE A THROUGH-CYCLE INVESTMENT STRATEGY FOR SUSTAINABLE GROWTH. INNOVATION AND A COMPETITIVE MINDSET IS AT THE HEART OF WHAT WE DO."
At Shell we recognise the importance of communicating with investors, ensuring that they understand the Company, its progress and its plans for the future. Our Investors' Handbook plays an important role. It includes financial data going back five years, giving a broad view of the Company, and explains our businesses and operations. Importantly, it explains how our businesses work together to provide enduring advantages.
In 2012, we made good progress in improving our performance, and we are on target to meet our strategic objectives. Our 2012 earnings on a current cost of supplies basis were $27 billion. Cash flow from operating activities was $46 billion, or $43 billion excluding working capital movements. Net capital investment amounted to $30 billion, as we build a solid foundation for future growth.
We produced 3.3 million barrels of oil equivalent per day in 2012, up 3% from 2011 excluding the effect of divestments and exits. There were important contributions from our Pearl GTL plant in Qatar, which is now ramped up, and the Pluto LNG Project in Australia, through our participation in Woodside Petroleum Ltd. Our equity LNG sales volumes of 20.2 million tonnes were up 7% compared with 2011.
Over the past three years our growth rates in earnings per share and operating cash flow have surpassed those of our competitors. And we continue to focus on further improving our competitiveness.
Our recent progress means that the growth agenda set out at the beginning of 2012 is on track.
Looking to the future, the world faces the challenge of meeting rising energy demand as the population grows and living standards rise, especially in fast-growing economies. We estimate that by 2050, world energy demand could rise as much as 80% from current levels. Innovation and technology will be vital in accessing and transporting harder-to-reach resources as more available forms of energy are depleted. Shell has the scale and portfolio choices to manage a through-cycle investment strategy for sustainable growth. Innovation and a competitive mindset is at the heart of what we do.
Our work in natural gas, which now accounts for nearly 50% of our production, provides an example. We see integrated gas, comprising LNG and GTL, as a particular area with future growth potential. Our Pearl GTL plant illustrates our ability to create and operate very large scale projects working with national partners. Its output of fuels and other liquid products made from natural gas help Qatar diversify its national revenues.
In 2012, we cut the first steel for the hull of our floating LNG facility for the Prelude gas field offshore Australia. It will liquefy gas far out at sea and deliver it to tankers for export. By eliminating the need for pipelines to shore, it will demonstrate a concept that could help us reach remote gas fields elsewhere in the world.
To conclude, we are making good progress towards our objectives. We continue to work hard to improve our operating performance, and we have clear strategic priorities to drive growth and value for our shareholders. I hope you will find plenty of information on these plans in this Investors' Handbook.
Peter Voser
Chief Executive Officer