HIGHLIGHTS
Shell has been a leading player in the North Sea for several decades, and is also the operator of the NAM joint venture, the largest hydrocarbon producer in the Netherlands.
Production in Europe amounted to about 800 thousand boe/d in 2012, and we invested about $3 billion in 2012 for sustainable production in the future.
After-tax earnings from the oil and gas exploration and production operations of our subsidiaries and equity-accounted investments in the region were $4.2 billion.
We are participating in the development of the Clair Phase 2 and Schiehallion Redevelopment projects in the UK, and the Corrib project in Ireland. We have increased our stakes in the offshore Beryl, Schiehallion and Draugen fields.
KEY FIGURES

2012

% of total

[A]

Available for sale.

[B]

Includes proved reserves associated with future production that will be consumed in operations.

Total production (thousand boe/d) [A]

790

24%

Liquids production (thousand b/d) [A]

219

15%

Natural gas production (million scf/d) [A]

3,311

35%

Gross developed and undeveloped acreage (thousand acres)

14,935

6%

Proved oil and gas reserves excluding
non-controlling interest (million boe) [B]

3,236

24%
CAPEX
$ billion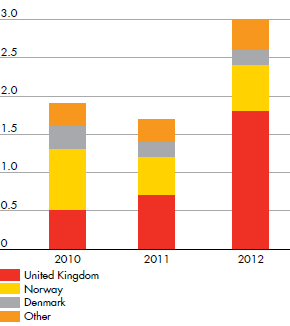 PRODUCTIONmillion boe/d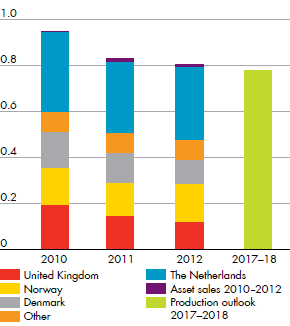 In Europe, Shell has interests in Albania, Austria, Denmark, Germany, Greece, Hungary, Ireland, Italy, the Netherlands, Norway, Slovakia, Spain, Ukraine and the United Kingdom.