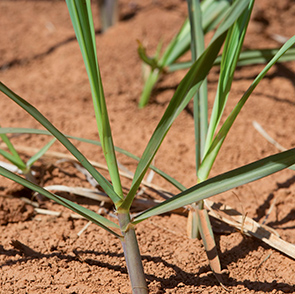 Raízen produces low-carbon biofuel
from sugar cane in Brazil.
Raízen's mills are located in São Paulo, Mato Grosso do Sul and Goiás states, Brazil. More than 4,000 local farmers supply the mills with sugar cane. Raízen is working with the international foundation Solidaridad Network to help these farmers achieve the sustainability standards needed for Bonsucro certification. In 2012, Raízen started a pilot project with 256 suppliers to identify and address the challenges they face.
These suppliers include landowners and tenants, with farms ranging in size from less than 20 hectares to more than 1,000 hectares. Some perform all activities – planting, growing, cutting, loading and transporting – while others outsource some of these tasks. One of the aims of certification is to ensure that all farmers in the Raízen supply chain earn a fair living.
Each farmer uses a self-assessment tool and performance analysis management system developed by Raízen and Solidaridad. Farmers complete a detailed questionnaire about their production activities in more than 30 areas, including working conditions and forest protection. The results are entered into the management system, which analyses them and generates recommendations where improvements need to be made.
"This is a pioneering project aimed at delivering sustainability improvements on the ground in a practical, step-by-step way," said Pieter Sijbrandij, Solidaridad's manager for Brazil. "We see potential for other companies to adopt a similar approach if they want to improve the sustainability of their supply chain." In 2013, Raízen will start introducing this programme to all of its suppliers.