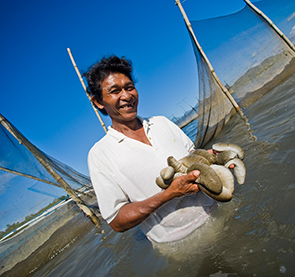 Esteridio Gonzaga shows some of his
sea cucumber harvest in Palawan,
the Philippines.
The Shell-operated Malampaya deep-water project signalled the beginning of the natural gas industry in the Philippines when it started operations in 2001. It continues to produce cleaner, safe and reliable energy to meet rising demand in the country. The natural gas it supplies for electricity generation powers nearly half of the homes, cities and industries of Luzon, the Philippines' largest island and the site of the capital, Manila. The project helps reduce the country's dependence on imported fuel and provides billions of dollars in revenue for the government.
The Malampaya pipeline, one of the world's longest, begins off the coast of Palawan Island and runs for over 500 km, passing the island of Mindoro. It ends at a processing plant in Batangas province on Luzon, where the gas is used to generate electricity at three power plants.
Production has started to decline, however, as the field ages. To remedy this we plan to drill more wells and install compressors on a new platform that will boost the flow of gas and extend the life of the field. As we developed our plans in 2012, we continued to work closely with the diverse communities who live on the islands in the region. They include coastal villages inhabited mostly by fishermen, some of whom belong to indigenous tribes. Our approach draws on the lessons we have learned in the many years we have been operating Malampaya.
Listening to our neighbours
Before we built the pipeline, many local people expressed fears that it would harm the environment, create health and safety problems, or cause economic hardship. Local fishermen who would be unable to work near the drilling area complained about losing their livelihoods. In Mindoro, with its rich biodiversity, there were some protests. Other residents were concerned that they would receive no direct benefits if the pipeline did not pass through Mindoro. The indigenous Tagbanua tribe were worried that our pipeline route would cross sacred ancestral waters where they had buried their dead.
We held public meetings to listen to and develop plans to address these and other concerns. In Mindoro we provided extensive information about our project on radio and in an exhibition. We rerouted our pipeline around Mindoro to conserve its biodiversity, and we made sure it avoided Tagbanua ancestral waters. We also provided funds to a micro-finance scheme to help local people start businesses and to support livelihoods.
We worked to address concerns over unemployment. But we found a shortage of people with vital construction skills, such as welding. Over time, we have helped build job skills and business expertise among local people through a number of training programmes. Edgardo Artizuela, a fisherman in northern Palawan, is one of those who developed new skills through a Shell training course. He is now also a carpenter and repairs houses and boats for additional income. "Instead of simply relying on fishing, these new skills have opened up livelihood opportunities for us," he said. Another fisherman, Esteridio Gonzaga, has been able to create a small business: "I learned how to cultivate and export sea cucumbers," he said.
Learning from experience
In the early days, we made some mistakes. For example, initially we failed to understand the Palawan community's concerns over malaria. We believed people wanted schools and hospitals. But we learned that what the community wanted most of all was to eliminate malaria in the villages. This led to the launch of a successful anti-malaria programme, which has now been replicated in four more provinces and has significantly reduced deaths from malaria.
Today, training programmes to develop skills are helping to equip local people to work on the latest phase of the Malampaya project, which will create more than 1,000 jobs during construction.
Shell's approach to working with communities in the Philippines has attracted praise. A paper published in 2007 by the World Resources Institute in Washington DC said: "The Malampaya project illustrates how a potentially controversial, high-impact infrastructure project can avoid costly community opposition through ongoing efforts to secure and maintain community consent throughout the project cycle."
At the Asian Institute of Management in the Philippines, Professor Jacinto Gavino uses the project as a case study in the classroom. "We focus on the process of collaborative engagement with stakeholders," he said.
Malampaya is held up to Shell employees as an example of how we can build community trust and goodwill, and serves as a guide for future projects elsewhere.
Shell has a 45% interest in Malampaya. Partners are Chevron (45%) and the Philippines National Oil Company (10%).