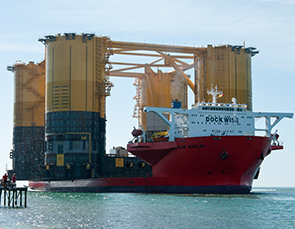 The hull of the new platform for the
Mars B project being moved to the
Gulf of Mexico, USA.
Shell has been operating in the Gulf of Mexico (GoM) for more than 30 years. As fields age, new wells need to be drilled and older facilities upgraded to maintain efficient production. Shell is continually searching for ways to do this with reduced impact on the environment.
For example, advanced technology has allowed us to extend the lifespan of the Mars field, one of Shell's most productive projects since it started operations in 1996. The Mars B project (Shell interest 72.5%) is the first major redevelopment of an existing project in the region and will include a new platform to deliver oil and gas to shore from depths of around 1,000 metres.
In developing the Cardamom Deep reservoir, which Shell discovered in 2010 with advanced seismic technology, we will minimise our environmental impact by using the nearby Auger platform. We are installing underwater equipment and pipelines to deliver Cardamom production to Auger, expected to be 50,000 boe a day.