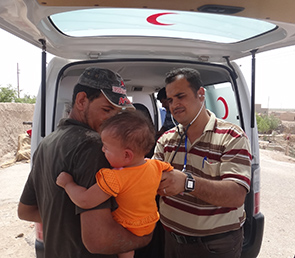 Mobile clinics provide health checks and
medicines in Iraq.
A rejuvenated energy industry continues to help Iraq rebuild. The country is now the world's third-largest oil exporter, according to the International Energy Agency. But huge challenges remain, including a need for investment to improve ageing infrastructure in the oil and gas industry, which accounts for more than 90% of government revenues. The lack of reliable power for homes and businesses also hinders economic progress.
The Shell-operated Majnoon project is developing one of the largest oil fields in the world, estimated by the Iraqi government to hold around 38 billion barrels of oil. Shell has a 45% interest, with partners Petronas holding 30% and the Iraqi state, through the Missan Oil Company, holding 25%. The aim in the project's first phase is to reach production of 175,000 barrels of oil a day.
Developing local skills
In 2012, Shell continued to help create jobs, build skills, improve health programmes and offer educational opportunities. Unemployment, especially among the young, remains a major challenge for the country. By the end of the year, we had employed around 2,500 local people to work on the Shell-operated Majnoon project in southern Iraq. Shell has also started courses for well engineers and built a centre for training in technical and other skills.
Many people are too poor or are otherwise unable to travel to hospitals for medical care. With the AMAR International Charitable Foundation and the Basrah Health Directorate, Shell set up a programme in 2012 to provide health checks and medicines, using three mobile clinics that regularly travel to the poorest communities.
Lack of education reduces job opportunities for local people. In 2012, we launched a literacy campaign to help women learn to read and write. This programme has helped some of the most vulnerable people in the Majnoon communities gain basic skills that can lead to future opportunities. We also continued to focus on helping to improve road safety in Iraq.
In the field
After a programme at Majnoon to clear unexploded ordnance left from years of conflict, we built new infrastructure and improved existing equipment. In September 2012, we shut down production to allow work to upgrade other facilities, which is expected to last until mid-2013.
The amount of flaring of natural gas produced with oil at Majnoon fell in 2012, as a result of this shut-down, to around 0.2 million tonnes of CO2 equivalent. Shell and our partners are working on a long-term approach to capturing the gas flared during operations for use in power generation.
In the south of Iraq, a total of some 700 million standard cubic feet of natural gas produced with oil is flared every day, amounting to emissions of around 20 million tonnes of CO2 equivalent a year. We are a partner in the Basrah Gas Company (Shell interest 44%), which is capturing natural gas produced with oil at other fields for use in generating electricity for the national grid. South Gas Company (51%) and Mitsubishi (5%) are our partners.