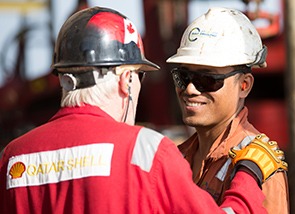 Staff working together on a drilling rig
off the coast of Qatar.
Contractors and suppliers play an important role in Shell's activities. In 2012, around 400,000 contractor staff worked for Shell. Contractors often employ a large number of workers, particularly in the construction phase of projects. This creates local opportunities for jobs and developing skills. The increased demand for goods and services also helps build local businesses. However, this can also bring challenges such as pressure on local facilities, increased traffic and higher living costs. We identify such potential impacts and put measures in place to minimise them.
Joint ventures
Shell often works in joint ventures with national and international energy companies. When we operate the venture we apply the Shell Control Framework, which includes the Shell General Business Principles, Code of Conduct and our standards in areas such as health, safety, security, environment and social performance. Where we are not the operator, we encourage our partners to apply materially equivalent standards.
Working with our suppliers
Shell buys large amounts of goods and services from around 120,000 suppliers across the world. We are working to make sure these suppliers and our contractors operate in environmentally and socially responsible ways. We place about 1 million purchase orders a year. In 2012, we spent over $65 billion on goods and services. Shell works with contractors and suppliers who comply with applicable laws and regulations, and behave towards employees, local communities and the environment in line with the Shell General Business Principles and Code of Conduct.
Our Supplier Principles provide a mandatory set of requirements for all suppliers and contractors. We assess suppliers who want to do business with Shell based on the level of potential risk, especially in the areas of anti-bribery and corruption, human rights, safety and the environment. We also work with suppliers to help them meet our standards in these areas. In 2012, we conducted assessments of our suppliers and contractors on their level of compliance with the principles (see Social performance).