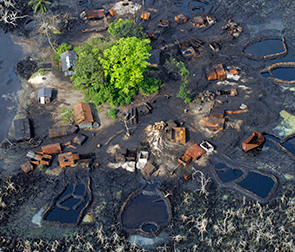 Illegal makeshift refineries
contribute to environmental
damage in parts of the Niger Delta.
For SPDC operations in Nigeria, 2012 was a year of contrasts. Oil theft, a long-term problem, escalated. As a result, production was around 20% below capacity in SPDC onshore facilities due to pipeline shutdowns resulting from crude oil theft. Yet significant progress was made. Improved security – helped by the government amnesty for militants – and stable co-funding from its partners enabled SPDC to continue its multi-year programme to install new gas-gathering facilities and repair existing ones damaged by militants. As a result, SPDC's flaring fell in 2012 by around 25% from the previous year, while production fell by 8%.
SPDC's flaring intensity – hydrocarbons flared per tonne of production – fell by around 20% in 2012 compared to the previous year, to the lowest level SPDC has recorded. In 2012, SPDC announced planned additional investments of around $4 billion on projects to develop new oil and gas fields that will include gas-gathering facilities. These facilities will also help reduce flaring further by processing gas from other SPDC fields that is currently flared. Once these projects are completed, SPDC's flaring intensity is expected to be below the current industry average.
The volume of operational spills onshore from SPDC facilities improved again in 2012, falling to 0.2 thousand tonnes, a drop of over 50% from the previous year. The number of operational spills also improved, falling to 36 in 2012, a decrease of over 40%. There were 137 spills caused by sabotage and theft in the area immediately surrounding SPDC pipelines and other facilities in 2012, totalling 3.3 thousand tonnes. Operational spills accounted for around 5% of the total volume spilled from SPDC facilities in 2012. Of 316 sites in need of remediation at the start of 2012, SPDC had cleaned almost 80% by the end of the year.
SPDC's goal is to have no operational spills. It continues to focus on reducing spills further and responding to them more effectively. In the past three years, SPDC has replaced almost 500 km of pipeline, and work continues to replace further pipelines. In 2012, SPDC began working with Bureau Veritas, an international verification organisation that is contracted to independently review SPDC oil-spill management practices. At SPDC's invitation, the International Union for Conservation of Nature (IUCN) also set up an independent scientific panel to advise the company on its spill clean-up and remediation practices, and to recommend possible improvements.
SPDC continued its drive to help more Nigerian companies play a key role in its supply chain – boosting the economic impact of its business operations at national, local and community levels. Thanks to these efforts, SCC Nigeria Ltd manufactured the country's first carbon steel pipes under a $37 million contract with SPDC for use in construction of the Trans Niger Pipeline. SPDC helped train contractor staff and build their skills to deliver the pipes. Building Nigeria's domestic capacity to produce carbon steel pipes helps reduce the need to import such equipment from abroad. Shell companies in Nigeria are also supporting the Nigerian Institute of Welding to establish a testing centre in Benin, Edo State, with the aim of training welders needed by the industry.
A key obstacle blocking growth for Nigerian companies is lack of access to capital. In September 2012, SPDC announced the launch of a $27 million trade loan-guarantee facility with some of the country's leading banks. This gives companies with SPDC contracts immediate and affordable access to credit to enable them to start work. SPDC's community-led social investment activities also grew in strength during the year. The Global Memorandum of Understanding (GMoU) model enables communities to manage funds provided by SPDC and its joint-venture partners, and implement the projects they themselves decide upon. A number of community development boards set up under the GMoU scheme have achieved independent foundation status, enabling them to obtain funds from third parties. This reinforces the GMoU approach, which seeks to build the capacity of communities to take charge of their own development.
Opinion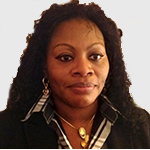 In interacting with SPDC, I have observed a keen desire to see change. However, there are challenges. The key to success is strengthening the oil-spill remediation strategy so that it will ensure the affected sites are not only cleaned up and clean drinking water sources restored, but that biodiversity – such as fish, crabs, and shrimp on which communities depend and the mangroves where these species breed – thrives again. The IUCN-Niger Delta Panel will endeavour to provide practical recommendations that will improve this situation. The Panel hopes that SPDC will support these recommendations and make the necessary changes that will have a positive impact in the field."
Dr Uzo Egbuche
Chair of the IUCN Independent Advisory Panel on Remediation and Rehabilitation of Biodiversity and Habitats of Oil Spill Sites, Niger Delta, Nigeria