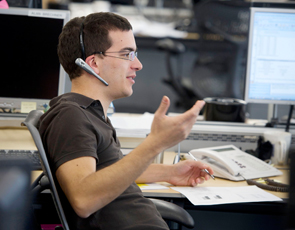 Downstream Shell Shipping and Trading
staff, Shell Centre, London.
Shell Trading is the business name of a global organisation comprising a network of separate companies that sell crude oil to a wide range of customers within and outside Shell. The companies also trade natural gas, LNG and power around the world. Their supply portfolio includes the largest equity share of LNG of any international oil company. These companies share knowledge and best practice, use common systems and controls, and manage the risks associated with international trading in a competitive environment. Shell Trading supports Shell's Upstream and Downstream businesses by trading natural gas, LNG, electrical power, crude oil, refined products, chemical feedstocks and environmental products. It also manages a shipping fleet of more than 50 ocean-going vessels.
Shell Trading companies operate out of a variety of locations, including Dubai, Houston, London, Rotterdam and Singapore. Two major Shell Trading units concentrate their dealings in Europe and North America. Shell Energy Europe markets and trades gas, power and carbon dioxide throughout Europe, serving around 7,000 customers. Together with its subsidiaries, Shell Energy North America trades and markets Shell's North American natural gas production, benefitting from access to power generation and gas storage assets.