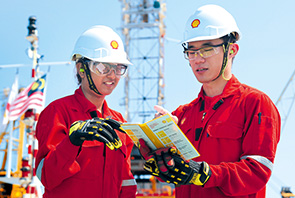 Engineers on a platform off the coast
of Malaysia read about Shell's
Life-Saving Rules.
P&T is responsible for safety not only in the design and engineering of new wells and facilities, but also in their construction. It is constantly seeking new ways to reduce safety risks in these activities and it makes sure that new technology meets or exceeds Shell's standards.
P&T also defines the management framework for controlling the risks to health, safety, security and the environment in Shell's operating assets. This framework is expected to be in place so as to prevent harm to people and to prevent leaks. It specifies, for example, that offshore wells must be designed with at least two independent barriers to help mitigate the risk of an uncontrolled hydrocarbon release. And it specifies the regular inspection, testing and maintenance of these barriers to ensure they meet our standards.
We continuously reinforce a "safety first" culture among our employees and contractors. We expect anyone working for us to intervene and stop work that may appear unsafe. We expect everyone working for us to comply with our 12 mandatory Life-Saving Rules. If employees break these rules, they will face disciplinary action up to and including termination of employment. If contractors break these rules, they can be removed from the worksite. In addition to our ongoing safety awareness programmes, we hold an annual global Safety Day to reinforce the role workers play in preventing incidents and injuries.