Conventional exploration and appraisal: key wells 2015–2016
Enlarge image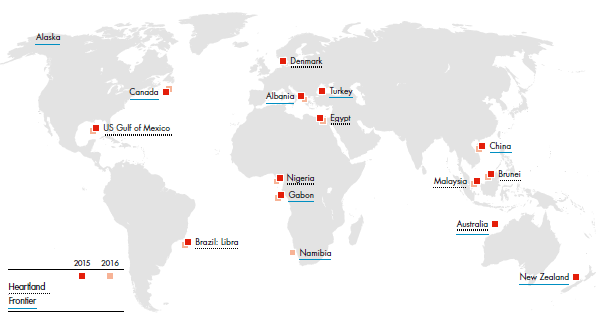 Conventional exploration themes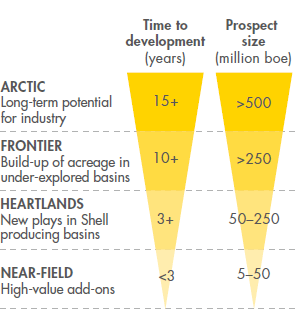 In conventional exploration, we are successfully executing a thematic strategy focusing on both short-term value through established ventures and mid- to long-term growth positions through expanding our Upstream heartlands and exploring in new frontier basins.
Our investments are balanced between: (a) exploration near our existing assets which can be brought on stream quickly and generate high value; (b) testing new concepts and finding new oil and gas resources within our existing heartlands; (c) building new frontier positions in under-explored areas with the potential for discoveries of over 250 million barrels, but which will take longer to develop; and (d) developing bigger material opportunities in remote areas, such as the Arctic, that are growth options for the long to very long term.
In 2014, we had 10 frontier and heartlands discovery and appraisal successes – in Australia, Gabon, Malaysia and the Gulf of Mexico. We made 41 near-field discoveries close to our existing Upstream assets, with some of these new finds already producing oil or gas by the end of 2014.
In Malaysia alone, we added around 300 million barrels of resources in 2014 through four heartland discoveries and appraisals and successful near-field exploration. In the Gulf of Mexico we made four material heartlands discoveries close to existing infrastructure and areas under development. These discoveries were part of over 1,300 million barrels of resources added for Shell there since 2009. In Brazil, progress has been made at the Libra pre-salt field following our entry into the position in 2013.
We added new conventional exploration acreage in Colombia, Namibia, the Netherlands, Norway, Russia, and the USA.
Shell aims to continue to deliver high-value prospects with short hook-up times, expand into material oil and gas plays in its existing heartlands and apply technology and innovative geological thinking to de-risk prospects in frontier basins.