Highlights
Production in Asia amounted to nearly 1.1 million boe/d in 2014.
After-tax earnings from the oil and gas exploration and production operations of our subsidiaries, joint ventures and associates in the region were $9.8 billion.
We started up key projects including Gumusut-Kakap in Malaysia.
We took the final investment decision on Maharaja Lela South in Brunei.
We are participating in the development of four key projects in the region: Baronia/Tukau Timur and Malikai in Malaysia, Kashagan Phase 1 in Kazakhstan, and Rabab Harweel in Oman.
KEY FIGURES

2014

% of total

| | |
| --- | --- |
| [A] | Available for sale. |
| [B] | Includes proved reserves associated with future production that will be consumed in operations. |

Total production (thousand boe/d) [A]

1,093

35%

Liquids production (thousand b/d) [A]

552

41%

Natural gas production (million scf/d) [A]

3,132

34%

Gross developed and undeveloped acreage (thousand acres)

72,211

27%

Proved oil and gas reserves excluding non-controlling interest (million boe) [B]

4,457

34%
In Asia, the Middle East and Russia, Shell has interests in Brunei, China, India, Indonesia, Iran, Iraq, Japan, Jordan, Kazakhstan, Kuwait, Malaysia, Oman, the Philippines, Qatar, Russia, Saudi Arabia, Singapore, South Korea, Turkey and the United Arab Emirates.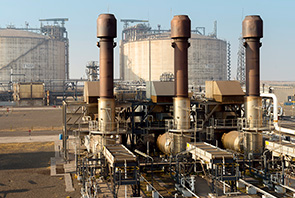 The Hazira LNG regasification
terminal in India.