SHELL REALISED PRICES

YEAR AVERAGE

2014

2013

2012

2011

2010

SUBS

JV&A

SUBS

JV&A

SUBS

JV&A

SUBS

JV&A

| | |
| --- | --- |
| [A] | Includes Shell's 14% share of Woodside as from June 2014 (previously: 23% as from April 2012; 24% as from November 2010; 34% before that date), a publicly listed company on the Australian Securities Exchange. We have limited access to data; accordingly, the numbers are estimated. |
| [B] | Average realised prices have been corrected from $101.00/b (USA) and $100.42/b (Total). |

Oil and natural gas liquids ($/b)

Europe

94.57

89.68

105.23

99.27

108.13

104.60

106.77

103.97

73.35

83.24

Asia

89.47

96.85

96.46

70.34

107.76

67.33

103.73

62.81

76.21

44.27

Oceania

82.26

88.07[A]

90.50

91.91[A]

91.62

90.14[A]

92.38

99.74[A]

67.90

78.05[A]

Africa

100.55

–

110.14

–

112.45

–

111.70

–

79.63

–

North America – USA

87.90

–

98.10[B]

–

103.59

110.00

104.93

109.49

76.36

74.27

North America – Canada

59.19

–

63.14

–

68.31

–

70.72

–

53.23

–

South America

88.68

–

97.17

94.01

100.01

97.33

100.44

97.76

69.99

63.57

Total

91.09

95.87

99.83[B]

72.69

107.15

76.01

105.74

73.01

75.74

52.42

Natural gas ($/thousand scf)

Europe

8.58

8.26

10.29

9.17

9.48

9.64

9.40

8.58

6.87

6.71

Asia

4.57

11.50

4.51

10.73

4.81

10.13

4.83

8.37

4.40

6.55

Oceania

10.49

11.01[A]

11.55

9.45[A]

11.14

9.48[A]

9.95

10.09[A]

8.59

8.79[A]

Africa

2.71

–

2.84

–

2.74

–

2.32

–

1.96

–

North America – USA

4.52

–

3.92

–

3.17

7.88

4.54

8.91

4.90

7.27

North America – Canada

4.39

–

3.26

–

2.36

–

3.64

–

4.09

–

South America

2.85

–

2.91

0.42

2.63

1.04

2.81

0.99

3.79

–

Total

5.68

9.72

5.85

9.72

5.53

9.81

5.92

8.58

5.28

6.81

Other ($/b)

North America – Synthetic crude oil

81.83

–

87.24

–

81.46

–

91.32

–

71.56

–

North America – Bitumen

70.19

–

67.40

–

68.97

–

76.28

–

66.00

–
Oil and gas marker
industry prices
$/b
$/MMBtu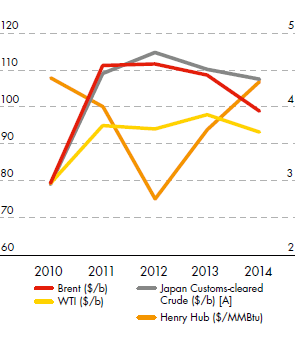 [A]

Based on available market information at the end of the year.

Chemical margins [A]
$/tonne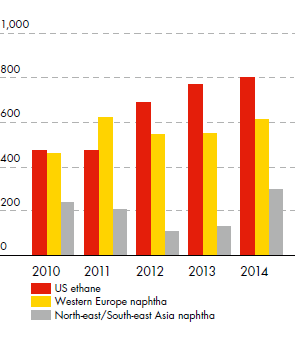 [A]

From 2011 onwards, margin source changed to ICIS Pricing for all regions.
Refining marker industry gross margins [A]
$/b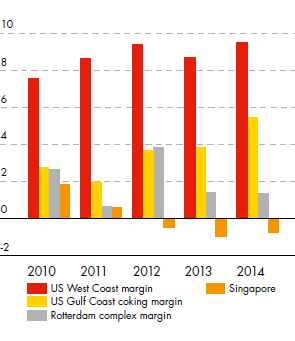 [A]

Refining industry margins do not represent the actual Shell realised margins for the periods.