KEY UPSTREAM PROJECTS UNDER CONSTRUCTION

Start-up

Project

Country

Shell share (direct & indirect) (%)

Peak production 100% (kboe/d)

LNG 100% capacity (mtpa)

Products

Legend

Strategic theme

Shell operated

| | |
| --- | --- |
| [A] | Shell share subject to investment. |

2015–2016

BC-10 Phase 3

Brazil

50

28

■

Deep water

●

Bonga Main Phase 3

Nigeria

55

40

■

Deep water

●

Corrib

Ireland

45

45

■

Upstream engine

●

Erha North Phase 2

Nigeria

44

45

■

Deep water

Forcados Yokri Integrated Project (FYIP)

Nigeria

30

50

■

Future opportunities

●

Gbaran-Ubie Phase 2

Nigeria

30

150

■

Future opportunities

●

Gorgon LNG

Australia

25

450

~15

■

Integrated gas

ML South

Brunei

35

35

■

Upstream engine

NA LRS/tight gas

USA/Canada

various

105[A]

■

Resources plays

●

Stones

USA

100

50

■

Deep water

●

2017–2019

Baronia/Tukau Timur

Malaysia

40

65

■

Upstream engine

Carmon Creek Exp Phase 1&2

Canada

100

80

■

Future opportunities

●

Clair Phase 2

28

100

■

Upstream engine

Coulomb

USA

100

20

■

Deep water

●

Kashagan Phase 1

Kazakhstan

17

300

■

Future opportunities

Malikai

Malaysia

35

60

■

Deep water

●

MMLS LNG

49

2.5

■

Integrated gas

Prelude FLNG

Australia

68

110

3.6

1.7 mtpa NGLs

■

Integrated gas

●

Rabab Harweel Integrated Project

Oman

34

40

■

Upstream engine

Schiehallion Redevelopment

55

125

■

Upstream engine

Southern Swamp AG

Nigeria

30

30

■

Future opportunities

●

Tempa Rossa

Italy

25

45

■

Upstream engine

Trans Niger Pipeline Loopline (TNPL)

Nigeria

30

45

■

Future opportunities

●
Productionkboe per day
(Shell share) million tonnes
per annum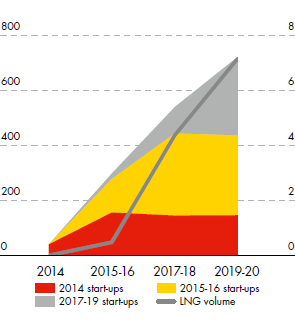 ■

Bonga Main Phase 3

(Shell interest 55%; Shell operated)
The Bonga field, which began producing oil and gas in 2005, was Nigeria's first deep-water development in depths of more than 1,000 metres. Phase 3 is an expansion of the existing Bonga Main development and will involve drilling four oil-producing and four water-injection wells. Drilling is expected to start in 2015. Output from the new wells will be transported through existing pipelines to the floating production, storage and offloading (FPSO) facility. This third phase of the Bonga Main development is expected to add around 40,000 barrels of oil equivalent per day (boe/d) at peak production.
■

Carmon Creek

(Shell interest 100%; Shell operated)
The Carmon Creek project, which began construction in 2013, is an in-situ heavy oil project that is expected to produce about 80,000 barrels per day (b/d) of bitumen using enhanced oil recovery methods. The project in northern Alberta, Canada, will inject steam underground via wells to recover bitumen from Shell's Peace River heavy oil leases, and will be built in two phases of 40,000 barrels per day each. Each phase will have a central processing facility to generate steam and separate the produced fluids into oil, water and gas. The produced water will be treated and recycled for steam generation. Production from both phases of this project is expected to reach peak annual production by the end of the decade.
■

Corrib

(Shell interest 45%; Shell operated)
The Corrib natural gas field lies about 83 kilometres off the north west coast of Ireland, about 3,000 metres under the seabed and in waters 350 metres deep. The field, a mid-sized resource in global terms, will supply up to 60% of Ireland's gas needs at peak production of 45,000 boe/d. The offshore subsea facilities and the pipelines that will transport the gas produced to a new processing terminal on land at Bellanaboy are almost complete. First gas is expected to flow from Corrib in 2015.
■

Prelude FLNG

(Shell interest 67.5%; Shell operated)
In 2011, Shell took the final investment decision to go ahead with building its first floating liquefied natural gas (FLNG) facility. The floating production, processing and storage facility will be moored over the Prelude gas field, located more than 200 kilometres off the coast of Western Australia, where it will produce, liquefy and store gas for shipment.

Ocean-going LNG carriers will load the LNG, as well as other liquid by-products, direct from the FLNG facility, for delivery to market. At 488 metres long and 74 metres wide, Prelude is expected to be the largest floating facility in the world. It will have a production capacity of 3.6 mtpa of LNG, 1.3 mtpa of condensate and 0.4 mtpa of LPG. Prelude is the first deployment of Shell's FLNG technology and is expected to operate on the field for around 25 years.

Construction of the facility is well underway and components are being assembled around the world. A key location is Geoje, South Korea, where the Prelude hull and topsides are under construction in one of the few shipyards with dry docks big enough for a project of this size.
Converting resources to production
billion boe