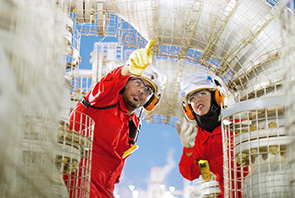 Engineers inspecting a valve at the Pearl
GTL plant in Qatar, which is the world's
largest GTL facility.
Shell's GTL technology is founded on more than four decades of research, development and commercial experience. We have two GTL plants in operation: Pearl GTL in Qatar (capacity of about 140 thousand boe/d of high-quality liquid hydrocarbon products and 120 thousand boe/d of NGL and ethane); and the Shell Middle Distillate Synthesis (SMDS) plant in Bintulu, Malaysia (capacity 14,700 boe/d). In 2014, Shell's total GTL production rose to a record of around 5 million tonnes.
We continuously improve our GTL technology, enhancing our designs, refining our processes and adding new GTL products. Recognising that there is demand for smaller GTL facilities, Shell has developed a GTL technology concept that could allow considerable flexibility in capacity, building on our proven GTL capability and leadership.
In 2014, Shell signed an agreement to conduct a feasibility study for a GTL plant in Mozambique.
In 2014, Shell launched premium motor oils made from natural gas – Pennzoil Platinum in North America and Shell Helix Ultra outside of North America. These products contain Shell PurePlus Technology: a patented process which converts natural gas into clear base oil, the main component of motor oils.