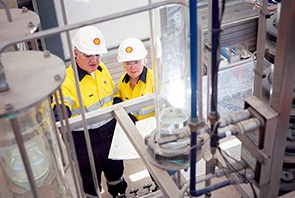 Technicians at the Australian Centre for
Energy and Process Training (ACEPT) in
Perth, Western Australia.
We have interests in offshore production and exploration licences in the North West Shelf (NWS) and Greater Gorgon areas of the Carnarvon Basin, as well as in the Browse Basin and Timor Sea. Some of these interests are held directly and others indirectly through a shareholding of around 14% in Woodside, reduced from around 23% by a sale of shares in 2014. All interests in Australian assets quoted below are direct interests.
Woodside is the operator of the Pluto LNG project. Woodside is also the operator on behalf of six joint-venture participants in the NWS gas, condensate and oil fields, which produced more than 500 thousand boe/d in 2014. Shell provides technical support for the NWS development.
We have a 50% interest in Arrow Energy Holdings Pty Limited (Arrow), a Queensland-based joint venture with PetroChina. Arrow owns coal bed methane assets and a domestic power business.
We have a 25% interest in the Gorgon LNG project, which involves the development of some of the largest gas discoveries to date in Australia, beginning with the offshore Gorgon (Shell interest 25%) and Jansz-lo (Shell interest 19.6%) fields. The Gorgon LNG project is under construction on Barrow Island.
We are the operator of a permit in the Browse Basin in which two separate gas fields were found: Prelude in 2007 and Concerto in 2009. We are developing these fields on the basis of our FLNG technology. The Prelude FLNG project (Shell interest 67.5%) is expected to produce about 110 thousand boe/d of gas and NGL, delivering approximately 3.6 mtpa of LNG, 1.3 mtpa of condensate and 0.4 mtpa of LPG. During 2014, construction of the Prelude FLNG project continued, with a major milestone being the lifting of the first topside modules onto the deck of the hull.
We are also a partner in the Browse joint ventures (Shell interests ranging from 25% to 35%) covering the Brecknock, Calliance and Torosa gas fields. In 2013, the Browse joint venture selected Shell's FLNG technology to progress to the basis of design phase of the project.
Our other interests include: a joint venture with Shell as the operator of the Crux gas and condensate field (Shell interest 82%); the Shell operated AC/P41 block (Shell interest 75%); and the Sunrise gas field in the Timor Sea (Shell interest 26.6%). We sold our interest in the Wheatstone-Iago joint venture and our 6.4% interest in the Wheatstone LNG project during the second quarter of 2014.
We are a partner in both Shell-operated and other, non-operated, exploration joint ventures in multiple basins including the Bonaparte, Exmouth Plateau, Greater Gorgon, Outer Canning and South Exmouth.
Map of West Australia and Indonesia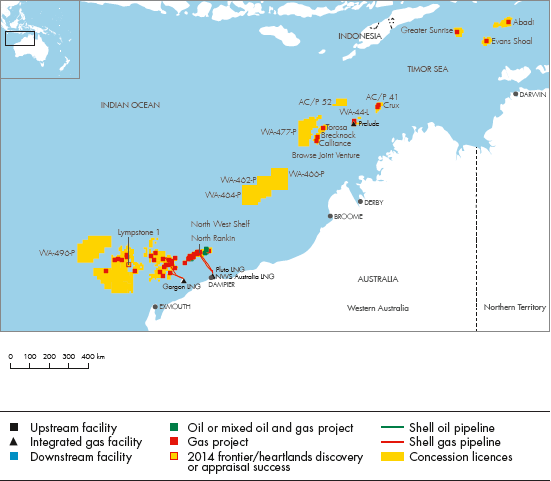 View on the interactive world map
Map of East Australia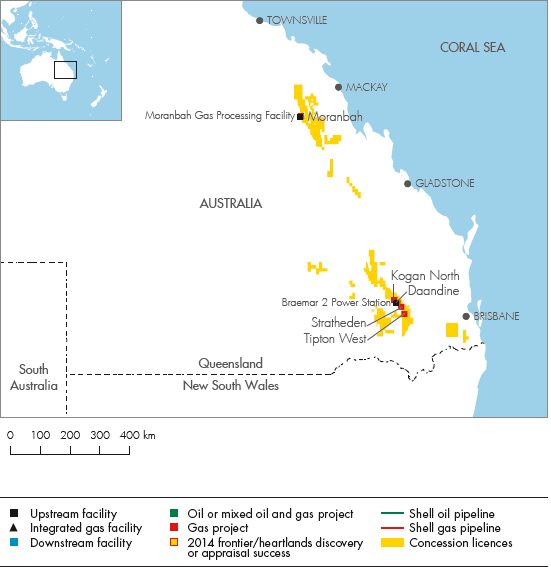 View on the interactive world map