New Energies
Our New Energies business explores emerging opportunities linked to the energy transition and invests in those where we believe sufficient value is available. We focus on new fuels for transport, such as advanced biofuels, hydrogen and charging for battery-electric vehicles; and power, including from low-carbon sources such as wind and solar, as well as natural gas. Alongside our work in new fuels and power, we are exploring how digital technologies can best support our activities and customers.
The New Energies portfolio is being built through organic growth and acquisitions. Most of these opportunities are in business sectors that are different from Shell's existing oil and gas businesses but have some similarities and/or adjacencies to our Downstream and gas and power trading businesses. We are working to bring these newly acquired businesses into compliance with the Shell Control Framework.
New fuels
Biofuels
We have a demonstration plant at the Shell Technology Centre Bangalore, India, that demonstrates a technology called IH2 that turns waste feedstock into transport fuel. The plant is in its final research and development stage, ahead of potentially scaling up for commercial production.
We are also investing in renewable natural gas (RNG) for use in natural-gas fuelled vehicles in the USA and in Europe. RNG is collected from landfill sites, food waste or manure and then processed until it is fully interchangeable with conventional natural gas.
In the USA, in August 2018 we announced plans to expand and upgrade the JC Biomethane plant in Junction City, Oregon, which we acquired in May 2018.
Hydrogen electric
We are part of the H2 Mobility Germany joint-venture to install hydrogen fuelling pumps at around 100 locations across Germany in 2019. Shell is taking part in several other initiatives to encourage the adoption of hydrogen-electric energy as a transport fuel.
Shell has also opened a total of 26 hydrogen refuelling sites in Germany, the USA, the UK and Canada and has announced the construction of four stations in the Netherlands.
Fast charging for battery-electric vehicles
Shell offers fast charging services for electric vehicles (EV) at 26 retail sites across the Netherlands, China and the UK and is working with IONITY, a joint venture of automotive manufacturers, to offer 500 high-powered charging points across 10 European countries.
NewMotion, which we acquired at the end of 2017, operates private electric charge points in the Netherlands, Germany, France and the UK, for home and business use.
In January 2019, we acquired Greenlots, a California-based EV charging company. This acquisition marks Shell's entry into the US EV market, providing EV charging solutions at scale, including vehicle charging points, smart software and grid services to commercial and residential customers.
Power
We aim to make electricity a significant business for Shell, one that in the future could sit alongside oil, gas and chemicals. This means being involved at almost every stage of the power supply system, from generating electricity, to buying and selling it, to supplying it directly to customers.
Renewable generation
We have interests in five onshore wind power projects in the USA and in one offshore wind power project – NoordzeeWind (Shell interest 50%) in the Netherlands. In total, our share of the energy capacity from these projects is more than 400 megawatts (MW).
In June 2018, the final investment decision was taken on the Borssele III and IV offshore wind farm projects in the Netherlands (Shell interest 20%). These wind farms are designed to have a total installed capacity of 731.5 MW. In December 2018, we formed 50/50 joint ventures with EDF Renewables and EDP Renewables to build wind farms off the coast of New Jersey and Massachusetts, respectively. This marks our entry into the US offshore wind market.
In 2018, we completed the acquisition of a 43.8% interest in Silicon Ranch Corporation, a developer, owner and operator of solar energy assets in the USA.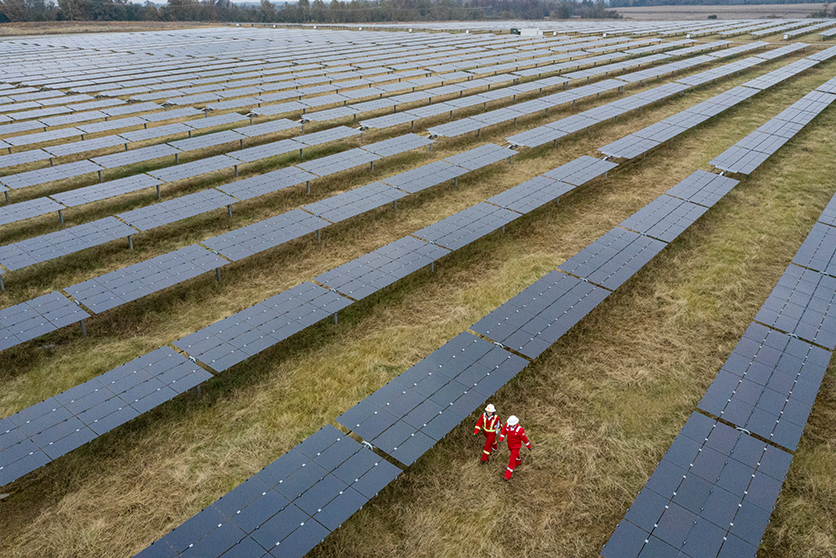 In December 2018, a solar park entered service at Shell Moerdijk, the Netherlands, providing power to our chemicals plants.
In January 2019, we acquired a 49% interest in Cleantech Solar, which provides solar power to commercial and industrial customers across South-East Asia and India.
Supplying consumers
In February 2018, we completed the acquisition of First Utility, a leading independent UK household energy and broadband provider.
In February 2019, we acquired sonnen, a provider of smart energy storage systems and innovative energy services for households, and Limejump, a UK-based digital energy-technology company.
1

Supply and Generation
Wind, solar, and selected gas and storage assets
Third-party offtake agreements to buy power
15+ years of experience in wind power
Interests in wind farms with potential to generate over 5GW once fully built
Solar generation capacity – operating and signed – of 1.6GW through our Silicon Ranch and Cleantech Solar platforms
10K+ megawatts of managed power generation capacity in North America with 1/3+ from renewables
2

Optimisation
Leverage portfolio flexibility and arbitrage opportunities
Power trading in 20+ countries
Analysing intermittent supply and demand
3

Customers at the centre
Commercial, industrial and residential customers
Innovative behind the meter solutions focused on energy efficiency and flexibility
Electric vehicle infrastructure for charging flexibility
On-site generation and storage solutions