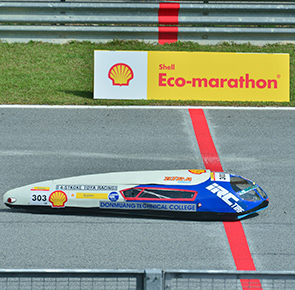 Students compete to go further using
less energy at the Shell Eco-marathon
in Malaysia.
The Shell Eco-marathon challenges student teams from around the world to design, build and test innovative, ultra-energy efficient vehicles. With annual events in the Americas, Europe and Asia, the winners are the teams that go the farthest using the least amount of energy. The events spark debate about the future of energy and road transport, and inspire young engineers to push the boundaries of fuel efficiency.
Teams set out to show how far they can travel on the equivalent of one litre of fuel or one kilowatt-hour of energy. The competition is split into two classes. The Prototype class focuses on maximum efficiency, with passenger comfort taking a back seat. The UrbanConcept class encourages more practical designs. The cars compete in one of seven fuel categories: petrol, diesel, biofuels, fuel made from natural gas (GTL), hydrogen, solar or electricity. Off-track awards are given for other achievements including safety, teamwork, design, and technical innovation.
In 2012, Shell Eco-marathon events were held in Rotterdam in the Netherlands, Houston in the USA and Kuala Lumpur in Malaysia. More than 40,000 people attended the Rotterdam event, which included a range of activities including public debates on the future of energy. Many records were broken in 2012. For example, students from Thailand set a new record for the event in Asia of 2,903 km a litre, the equivalent of driving from Kuala Lumpur to Hanoi on just one litre of fuel.