GHG emissions from source
to power generation
indexed to coal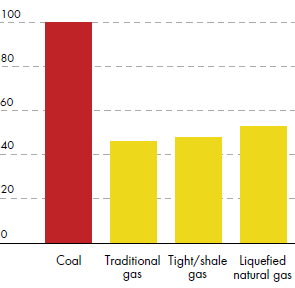 Source: US Department of Energy's National Energy
Technology Laboratory, October 2011
The world continues to face the critical challenge of how to meet the increasing demand for energy while reducing carbon dioxide (CO2) emissions – the greenhouse gas (GHG) that is the main cause of climate change. International efforts agreed under the United Nations Framework Convention on Climate Change (UNFCCC) aim to limit the average rise in global temperature to below 2 ºC compared to pre-industrial levels.
The current pace of change is too slow if we are to achieve this reduction, according to the International Energy Agency (IEA) and the United Nations Environmental Programme (UNEP). Shell's scenarios indicate that fossil fuels could provide more than two-thirds of the energy mix in 2050 (see diagram, "Building a sustainable energy future"). There is an urgent need for large-scale, affordable technologies, backed by governments, to support CO2 reduction strategies.
At Shell, we believe that governments should allow market forces to encourage the use of all technologies to reduce CO2 emissions. A strong, stable price on CO2 within a comprehensive policy framework is needed to achieve significant reductions in the long term. In a positive step in 2013, new carbon markets began operating in California, USA and in several regions of China.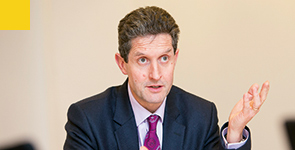 External opinion
"One of the most important findings of the 2013 Intergovernmental Panel on Climate Change (IPCCC) report was that total CO2 emissions will need to be limited to less than 1 trillion tonnes of carbon – more than half of which has already been emitted – if we are to keep global warming below 2 ºC.
This will inevitably call for a substantial deployment of carbon capture and storage (CCS) over the coming decades. Shell's activities with its Quest, Gorgon and Peterhead CCS projects represent a valuable starting point. Nevertheless, we will need a much greater commitment to the deployment of this vital technology if we are to retain the option of avoiding more than 2 ºC of warming. This commitment needs to come from government and other companies in the oil and gas sector."
Myles Allen
Professor of Geosystem Science, University of Oxford, Oxford, UK
Natural gas
More than one-third of the world's CO2 emissions come from electricity generation. Natural gas produces around half of the GHG emissions compared to coal across its life cycle, from production through to use in generating electricity (see diagram above). This makes switching from coal to gas for generating power the quickest and most affordable route for many countries to achieve their CO2 reduction targets.
Natural gas can be used as a single source for power generation, as well as a flexible back-up for renewable energy. It produces less of the smog-causing pollutants sometimes associated with coal plants, which benefits local air quality. We are one of the world's largest distributors of liquefied natural gas and we continue to invest in projects to produce more gas in the future.
Carbon capture and storage
In 2013, the International Energy Agency (IEA) made clear that without the widespread deployment of carbon capture and storage (CCS), and in the absence of stronger climate policies, the chances of limiting global temperature rise to a relatively safe 2 ºC are slipping away and urgent steps are needed to reduce CO2 emissions. CCS safely stores CO2 underground, instead of releasing it into the atmosphere. The IEA estimates that CCS could reduce global CO2 emissions by around 15% by 2050 provided it is rapidly deployed in the coming years. Government support is needed to bring CCS, and other low-carbon technologies, to an industrial scale which would reduce emissions across the energy sector.
Biofuels
Almost one-fifth of global CO2 emissions are from road transport. We are among the world's largest producers of sugar-cane ethanol through our Raízen joint venture in Brazil. This biofuel can reduce CO2 emissions by around 70%, compared to petrol, from cultivation of the sugar cane to using the ethanol as fuel, making it one of the lowest CO2 emission biofuels available today.
We are one of the first major energy companies to make significant investments in advanced biofuels. These biofuels use biomass from parts of crops not used for food (see "Biofuels").
Energy efficiency
We continue to work on improving energy efficiency at our oil and gas production projects, oil refineries and chemical plants. We have a CO2 and energy management programme that includes monitoring the energy efficiency of equipment at any given time. These systems give us instant information that can be used to make energy-saving changes.
We also encourage customers who buy our fuel to be more energy efficient by offering information about how to use less fuel when driving. We continue to develop fuels and lubricants to make vehicles more energy efficient (see "Fuels and products").
Adaptation
In addition to these four areas, we are working to identify and then address the potential physical impact of climate change on our facilities and new projects.