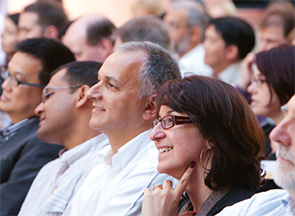 We embrace a culture of diversity across
our operations in more than 70 countries.
Our business principles
The Shell General Business Principles detail our responsibilities to shareholders, customers, employees, business partners and society. They set the standards for the way we conduct business with integrity and our respect for the environment and local communities. All Shell employees and contractors, and those at joint ventures we control, are expected to comply with our business principles. Shell provides mandatory training for employees and contractors to embed these business principles in our culture. We encourage joint ventures that we do not control, and suppliers, to apply equivalent principles.
Our code of conduct
The Shell Code of Conduct instructs individuals on how to behave in accordance with the Shell General Business Principles. All Shell employees and contractors must follow the Code of Conduct. It outlines specific areas such as anti-corruption, fair competition and contributing to safe working practices. Confidential channels, including a telephone helpline and website, are available for anyone to report potential breaches, anonymously if they wish. We encourage reporting of concerns and do not tolerate retaliation in any form. If violations occur, we take appropriate action.
We have a culture that embraces diversity and fosters an inclusive work environment with equal opportunities. For further information about our diversity and inclusion programme see "Our people".