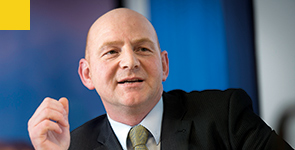 External opinion
"We have been working with Shell for over 12 months on the dismantling and disposal of several offshore structures from the Shell Indefatigable gas field in the southern North Sea. The contract was based on stringent technical, health and safety and regulatory requirements. The aim was to dismantle and recycle the structures, applying the safest and most environmentally friendly methods.
Shell takes its environmental responsibility seriously. Shell worked with us to achieve an impressive 98.9% recycling and reuse rate of the materials, which helped to reduce environmental impact from waste handling and treatment. Veolia developed an environmental accounting report which allowed the full tracking of all waste streams. Materials from the platforms were processed and graded for recycling; wood was pulped and made into paper, and crushed concrete was used as an aggregate for construction."
Mark Andrew
Project Manager, Veolia Environmental Services, Hull, UK
The potential environmental impact of our activities – and how local communities are affected – is carefully considered both before projects start and during ongoing operations. We focus on key areas including consuming less fresh water; conserving biodiversity; using less energy; minimising waste; preventing spills and leaks; flaring less gas produced with oil, and managing greenhouse gas emissions. (For details of our environmental performance, see "Environmental".)
Carbon dioxide (CO2) emissions are managed with the use of energy-efficiency technologies and processes, and by reducing flaring in our operations. We are also working to manage CO2 emissions by advancing carbon capture and storage (CCS) technologies. For example, we are implementing the Quest CCS facility in Canada to reduce CO2 emissions from our oil sands operations (see "Carbon capture and storage").
Our HSSE & SP Control Framework (see "Our governance and standards") includes environmental standards that must be applied across Shell. All our major installations including refineries, chemical plants, gas plants and permanently staffed oil and gas production facilities are also certified to ISO 14001.
Water
The availability of fresh water is a growing challenge for some communities and industries. Operating in water-scarce areas may bring operational and commercial challenges as regulations on water become more stringent and the cost of using water increases. We are taking steps to better manage our use of water. To support this, we have established a global centre of expertise for water at the Shell Technology Centre in Bangalore, India, which combines our water technology skills and knowledge.
The design and operation of our facilities uses innovative approaches and advanced technologies to manage water, such as customised water recycling systems to reduce the amount of water we use from local sources. We have water recycling projects at several of our operations around the world, including in Canada, the Netherlands and South Africa, where we have worked closely with local water authorities to develop solutions that benefit both Shell and local communities.
Minimising waste
Across Shell, we follow a standardised waste management process. This includes finding ways to reduce the volume of waste that is produced and identifying substitute materials that create less waste where possible. We make efforts to reuse or recycle waste. For example, materials from decommissioned oil platforms at our Indefatigable Field in the UK North Sea were recycled or reused (see opinion above). Some waste materials are used as fuel for power generation.