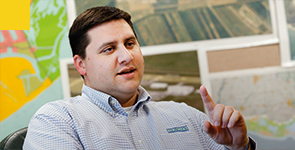 External opinion
"Shell and Port Fourchon in the USA have had a long-lasting working relationship. More recently, Shell played an instrumental role in four different project areas of safety, environment, security and sustainability to greatly enhance our region.
One specific area vital to our community is the safety and environmental protection of the Gulf of Mexico region. I worked with Shell on the Coastal And Marine Operators (CAMO) project, which was started by Shell to focus on prevention of Gulf of Mexico oil spills and gas releases. With Shell's guidance, the Port Commission also received two $50,000 government grant awards to enhance this maritime safety initiative, including creating free training material for mariners.
Safety and long-term sustainability are a way of life for communities in the Gulf of Mexico region. Shell is a valued partner in helping us to ensure that these goals can be met. We appreciate Shell's ongoing commitment to our community and look forward to continuing the relationship."
Chett Chiasson
Executive Director of Greater Lafourche Port Commission, Galliano, Louisiana, USA
Shell's rigorous safety standards for our deep-water operations worldwide continue to be designed to meet or exceed local regulatory requirements. The BP Deepwater Horizon tragedy in the GoM in 2010 reinforced the need to improve the industry's response to a deep-water incident. Shell was a leader in the development of two new deep-water spill-response consortiums.
Shell has joined with other oil and gas companies that operate in the GoM to form the Marine Well Containment Company (MWCC). With more than $1 billion of funding, the 10 member companies have set up a rapid deep-water spill-response system. MWCC equipment is on continuous standby to capture and contain oil if there is ablowout on a deep-water well in the GoM. In 2013, the MWCC, in collaboration with Shell, tested and deployed a compact cap for deep-water response in confined spaces, such as spaces directly under drilling or production platforms. MWCC is developing an expanded system to be able to handle greater capacity and depths to 3,000 metres.
The Subsea Well Response Project (SWRP) was founded by nine leading companies and operated by Shell. It has designed and built a series of well-capping systems that can be adapted to various deep-water well emergencies around the world. The systems have been deployed to four locations: Brazil, Norway, Singapore and South Africa.