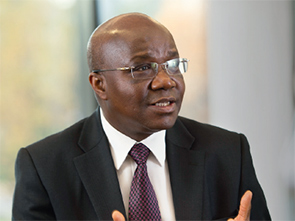 Mutiu Sunmonu
Chairman of Shell companies in Nigeria
Shell has described Nigeria as a "challenging operating environment". In 2013, you announced that the company will sell some of its oil and gas production projects and leases in the Niger Delta. Does Shell remain committed to Nigeria?
Shell experienced another very challenging year in 2013. However, Shell is committed to a long-term future in Nigeria, as we have said on many occasions. We have a history of more than 70 years in Nigeria where we have been the pioneer in onshore oil, gas and LNG, and offshore in shallow and deep water.
As announced in June 2013, we have decided to reduce our presence in the Niger Delta while reiterating our commitment to other areas of Nigeria, such as deep water and onshore gas operations. This is part of a consolidation that is intended to strengthen our position in the country. It will enable local companies to increase their presence in the upstream oil and gas sector, and it supports the Nigerian government's policy of encouraging investment by indigenous companies in its oil and gas industry.
You have been calling for government action to work in collaboration with civil society to tackle oil theft and sabotage of SPDC's pipelines and other facilities. What steps have been taken?
In 2013, production loss due to crude oil theft, sabotage and the related temporary shut-downs increased by around 75% compared with 2012. On average, around 32,000 barrels of oil per day (bopd) were stolen from SPDC's pipelines and other facilities. On top of this, SPDC lost production of around 174,000 bopd due to the related shutdowns. This equates to several billion in revenue losses for the Nigerian government and SPDC. This particularly affects the Nigerian government as around 95% of revenue after costs goes to the government.
SPDC has a number of initiatives to tackle the problem of crude oil theft, which remains the main cause of oil pollution in the Niger Delta today. These include operational measures such as increased pipeline surveillance, doubling the number of repair crews to tackle pipeline sabotage and more collaboration with local communities. We have improved levels of transparency so that people can follow our progress.
Throughout 2013, the international level of awareness of the oil theft problem has risen due to high-profile reports including a publication by the UK think-tank, Chatham House. This report explored the role of the international community in stopping the theft and trade of Nigerian crude oil. I believe that a broader, co-ordinated approach is needed to end this criminality. Governments need to take a leading role and we, at SPDC, are committed to playing our part.
Better security, collection of evidence and law enforcement are required on the ground, while international action is needed to trace, track and apprehend the international networks trading in stolen crude.
What clean-up operations take place after oil spills?
SPDC responds to all oil spills, regardless of the cause, originating in the area immediately surrounding its pipelines and other facilities. We start by shutting down production and containing the spill. For every spill, a joint investigation is carried out with regulators, oil company representatives, community members, and local and state officials. Secure access to the area is important to keep everyone safe.
In 2013, we started to invite non-governmental organisations to accompany us as observers on joint investigation visits to oil-spill sites. The team assesses the cause of the spill, measures the damage and calculates the volume of the spill. On average over the year, approximately 70% of the spilled volume was recovered from the environment.
We clean up and remediate the affected area, which includes cleaning or removing vegetation and assessing the impact on the soil. This assessment determines the area and depth of soil that needs to be remediated, in accordance with regulatory requirements. We typically use bio-remediation processes, which can take a long time to complete. SPDC conducts a quality check and the regulators are invited to certify the sites.
Our oil spills website has weekly progress reports on clean-up activities, investigation reports and photographs of spill sites. SPDC is the only international oil company to maintain this type of website. The industry regulator is working on a country-wide website, based on this website, which will cover spills from all operators.
What contribution have you made to residents in the communities of the Niger Delta during 2013?
During 2013, the focus of SPDC was to build entrepreneurial skills among the most vulnerable people within the Niger Delta's communities. For example, we set up four centres for women to teach skills in areas such as catering, fashion, design and printing. We also supported the Nembe City Development Foundation with 35 vehicles to help young people develop skills to work in the transport business.
SPDC and its joint venture partners provide funds to support projects that are nominated by community groups. A GMoU enables communities to access these funds and over $130 million has been spent on these projects in the past seven years. For example, a community group implemented solar-powered water systems that ensure a steady supply of potable water to the local communities.