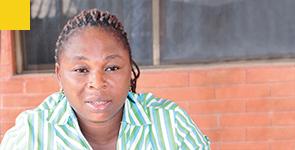 External opinion
"My husband and I came to Obio Cottage Hospital after recommendation from a friend. The services were free, once we registered with a fee for one year, because of the community health insurance programme supported by SPDC. My second child was delivered at Obio Hospital.
It has all the services we need: in addition to ante-natal care services, I have received laboratory testing and treatments whenever I am ill. It also offers immunisation and family planning services. The hospital is hygienic and is powered by solar and wind energy, so there are no power cuts. It is very different from other health facilities in the area."
Esuike Joy Obukohwo
Recipient of services at Obio Cottage Hospital, Port Harcourt, Nigeria
In 2013, SPDC maintained its strong commitment to community investment in the areas of community development, access to energy, environment and education. The Obio Cottage Hospital in Port Harcourt, set up by SPDC, has become one of the most visited health facilities in the region (see opinion). This is due to a community health insurance scheme which was the first of its kind for the Niger Delta. SPDC supports 27 health facilities in the Niger Delta.
For more than 50 years, Shell scholarship programmes have supported the education of thousands of Nigerians. In 2013, almost 1,800 secondary school places and 850 university scholarships were offered, with more than $7 million invested in the programme. Shell launched its Shell Scholars Forum in the same year, a network to bring current scholars together with past beneficiaries who now occupy influential positions in business, government and other institutions. This helps to develop mentoring relationships and encourages the sharing of experiences across generations.
SPDC sponsors projects that increase the community's access to energy. The Bonny Utility Company, for example, is a collaboration between oil and gas companies, the Nigerian government and local communities. It delivers a safe and reliable electricity supply to more than 11,000 households and provides employment to more than 50 local residents. SPDC also supports the Nigerian Alliance for Clean Cookstoves to introduce clean and efficient stoves to households for cooking and heating.
Despite challenges such as funding constraints and security, SPDC is making progress on major projects to boost Nigeria's future supply of gas and power. For example, the Okoloma gas plant and Afam power plant were constructed and delivered in less than two and a half years despite security challenges. This integrated power plant has contributed 14% to 20% of Nigeria's current power supply, together serving industrial and domestic use.